Artworks per year :
I'm generally impulsive when it comes to what I choose to paint next, but I do have a few thematic series I intend to keep adding to.
Here they are:

WORK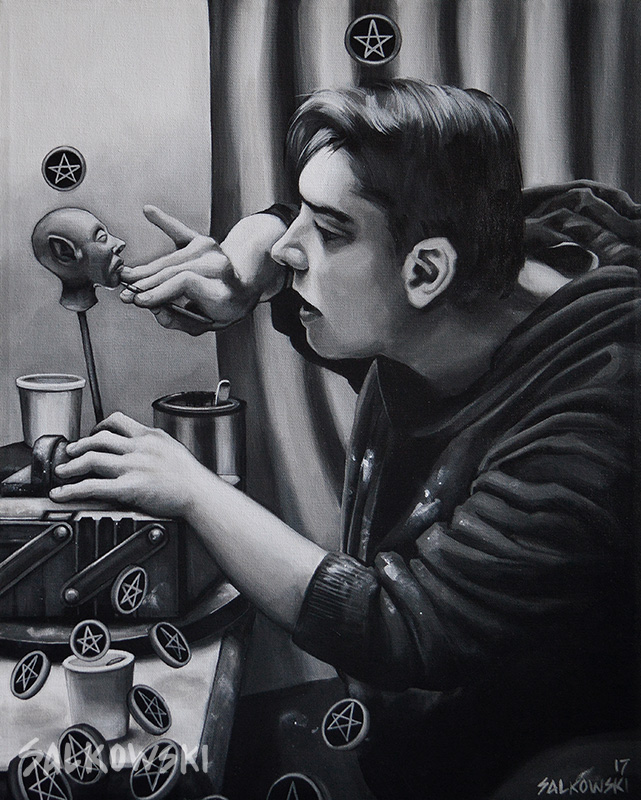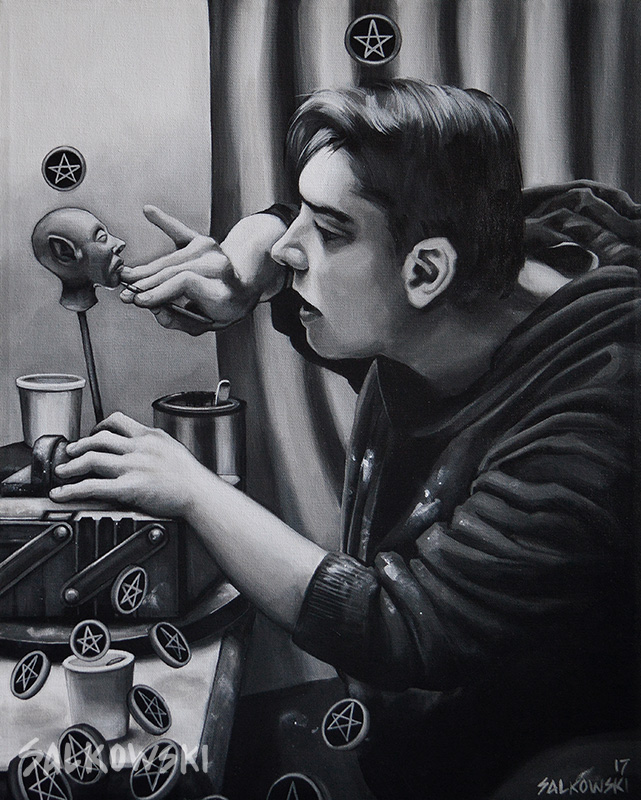 This series shows people at work and their relationship to their work. Their stories call for us to consider the state of work today.
These portraits are overlaid with the tarot's pentacles, which stand for money and the material world.

THE SEA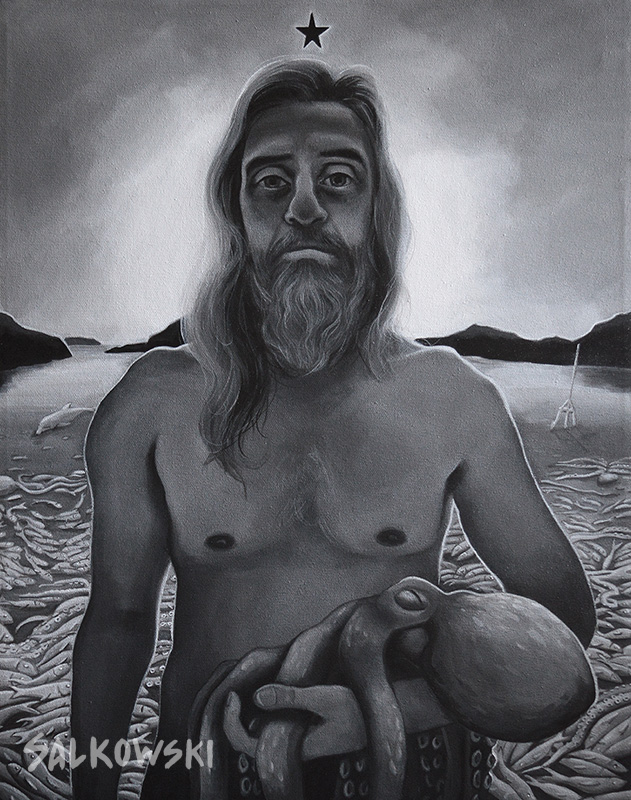 Inspired by a 2016 trip to Halifax, I've started a series on the sea and the environment, incorporating references to fantasy and Greek myths.

PETS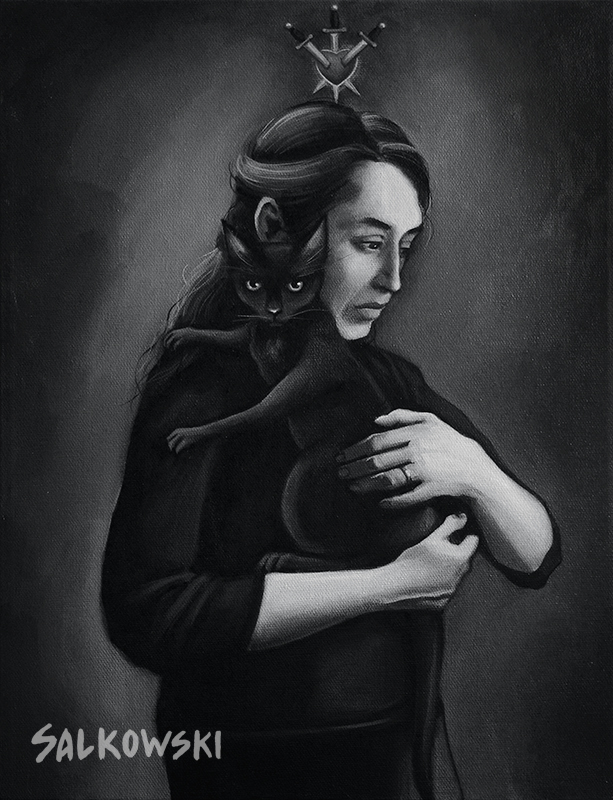 eyJpZCI6IjE0IiwibGFiZWwiOiJOZXdzbGV0dGVyIEVOIiwiYWN0aXZlIjoiMSIsIm9yaWdpbmFsX2lkIjoiOCIsInVuaXF1ZV9pZCI6ImJqbDE3YyIsInBhcmFtcyI6eyJ0cGwiOnsid2lkdGgiOiIxMDAiLCJ3aWR0aF9tZWFzdXJlIjoiJSIsImJnX3R5cGVfMCI6ImNvbG9yIiwiYmdfaW1nXzAiOiIiLCJiZ19jb2xvcl8wIjoiI2VmZjFmNiIsImJnX3R5cGVfMSI6ImNvbG9yIiwiYmdfaW1nXzEiOiIiLCJiZ19jb2xvcl8xIjoiIzY2NjY2NiIsImJnX3R5cGVfMiI6ImNvbG9yIiwiYmdfaW1nXzIiOiIiLCJiZ19jb2xvcl8yIjoiIzY2NjY2NiIsImJnX3R5cGVfMyI6ImNvbG9yIiwiYmdfaW1nXzMiOiJodHRwczpcL1wvc3Vwc3lzdGljLTQyZDcua3hjZG4uY29tXC9fYXNzZXRzXC9mb3Jtc1wvaW1nXC9iZ1wvYmdfc3VwcG9ydF9mb3JtLmpwZyIsImJnX2NvbG9yXzMiOiIjMzMzMzMzIiwiZmllbGRfZXJyb3JfaW52YWxpZCI6IiIsImZvcm1fc2VudF9tc2ciOiJUaGFuayB5b3UgZm9yIHlvdXIgc3Vic2NyaXB0aW9uISIsImZvcm1fc2VudF9tc2dfY29sb3IiOiIjZmZmZmZmIiwiaGlkZV9vbl9zdWJtaXQiOiIxIiwicmVkaXJlY3Rfb25fc3VibWl0IjoiIiwidGVzdF9lbWFpbCI6ImluZm9AanVsaWVzYWxrb3dza2kuY29tIiwic2F2ZV9jb250YWN0cyI6IjEiLCJleHBfZGVsaW0iOiI7IiwiZmJfY29udmVydF9iYXNlIjoiIiwicHViX3Bvc3RfdHlwZSI6InBvc3QiLCJwdWJfcG9zdF9zdGF0dXMiOiJwdWJsaXNoIiwicmVnX3dwX2NyZWF0ZV91c2VyX3JvbGUiOiJzdWJzY3JpYmVyIiwiZW5iX3N1YnNjcmliZSI6IjEiLCJzdWJfZGVzdCI6Im1haWxjaGltcCIsInN1Yl93cF9jcmVhdGVfdXNlcl9yb2xlIjoic3Vic2NyaWJlciIsInN1Yl9tYWlsY2hpbXBfYXBpX2tleSI6ImVhZmZlZjBlYjE4YjcyNmU0NzU3YzA1YmIwM2UyNWRlLXVzMTUiLCJzdWJfbWFpbGNoaW1wX2xpc3RzIjpbImE5ZWI5ZjViZTAiXSwic3ViX21haWxjaGltcF9ncm91cHNfZnVsbCI6IiIsInN1Yl9hY19hcGlfdXJsIjoiIiwic3ViX2FjX2FwaV9rZXkiOiIiLCJzdWJfYXJfZm9ybV9hY3Rpb24iOiIiLCJzdWJfY2tfYXBpX2tleSI6IiIsInN1Yl9mZWVkYl9rZXkiOiIiLCJzdWJfZ3JfYXBpX2tleSI6IiIsInN1Yl9ncl9jeWNsZV9kYXkiOiIwIiwic3ViX2ljX2FwcF9pZCI6IiIsInN1Yl9pY19hcHBfdXNlciI6IiIsInN1Yl9pY19hcHBfcGFzcyI6IiIsInN1Yl9tZW1fYWNjX2lkIjoiIiwic3ViX21lbV9wdWRfa2V5IjoiIiwic3ViX21lbV9wcml2X2tleSI6IiIsInN1Yl9zZl9hcHBfaWQiOiIiLCJzdWJfc2dhX2lkIjoiIiwic3ViX3NnYV9saXN0X2lkIjoiIiwic3ViX3NnYV9hY3RpdmF0ZV9jb2RlIjoiIiwic3ViX3NiX2FwaV9rZXkiOiIiLCJzdWJfdHh0X2NvbmZpcm1fc2VudCI6IkEgY29uZmlybWF0aW9uIGxpbmsgd2FzIHNlbnQgYXQgeW91ciBlLW1haWwgYWRkcmVzcy4gUGxlYXNlIGNoZWNrIHlvdXIgbWVzc2FnZXMhIiwic3ViX3R4dF9zdWNjZXNzIjoiVGhhbmsgeW91IGZvciB5b3VyIHN1YnNjcmlwdGlvbiEiLCJzdWJfdHh0X2ludmFsaWRfZW1haWwiOiJFbXB0eSBvciBpbnZhbGlkIGUtbWFpbCIsInN1Yl90eHRfZXhpc3RzX2VtYWlsIjoiRW1wdHkgb3IgaW52YWxpZCBlLW1haWwiLCJzdWJfcmVkaXJlY3RfdXJsIjoiIiwic3ViX3R4dF9jb25maXJtX21haWxfc3ViamVjdCI6IkNvbmZpcm1leiBsJ2Fib25uZW1lbnQgc3VyIFtzaXRlbmFtZV0iLCJzdWJfdHh0X2NvbmZpcm1fbWFpbF9mcm9tIjoiIiwic3ViX3R4dF9jb25maXJtX21haWxfbWVzc2FnZSI6IlZvdXMgXHUwMGVhdGVzIGFib25uXHUwMGU5IHN1ciBsZSBzaXRlIDxhIGhyZWY9XCJbc2l0ZXVycmxdXCI+W3NpdGVuYW1lXTxcL2E+LiBTdWl2ZXogPGEgaHJlZj1cIltjb25maXJtIGxpbmtdXCI+Y2UgbGllbiA8XC9hPiBwb3VyIGNvbXBsXHUwMGU5dGVyIHZvdHJlIGFib25uZW1lbnQuIFNpIHZvdXMgbmUgdm91cyBwYXMgc291c2NyaXZleiBpY2kgLSBpZ25vcmVyIHNpbXBsZW1lbnQgY2UgbWVzc2FnZS4iLCJzdWJfdHh0X3N1YnNjcmliZXJfbWFpbF9zdWJqZWN0IjoiW3NpdGVuYW1lXSBWb3RyZSBub20gZFx1MjAxOXV0aWxpc2F0ZXVyIGV0IG1vdCBkZSBwYXNzZSIsInN1Yl90eHRfc3Vic2NyaWJlcl9tYWlsX2Zyb20iOiIiLCJzdWJfdHh0X3N1YnNjcmliZXJfbWFpbF9tZXNzYWdlIjoiTm9tIGRcdTIwMTl1dGlsaXNhdGV1clx1MDBhMDogW3VzZXJfbG9naW5dPGJyIFwvPk1vdCBkZSBwYXNzZVx1MDBhMDogW3Bhc3N3b3JkXTxiciBcLz5bbG9naW5fdXJsXSIsInN1Yl9yZWRpcmVjdF9lbWFpbF9leGlzdHMiOiIiLCJmaWVsZF93cmFwcGVyIjoiPGRpdiBbZmllbGRfc2hlbGxfY2xhc3Nlc10gW2ZpZWxkX3NoZWxsX3N0eWxlc10+W2ZpZWxkXTxcL2Rpdj4ifSwiZmllbGRzIjpbeyJsYWJlbCI6IiIsInBsYWNlaG9sZGVyIjoiIiwiaHRtbCI6Imh0bWxkZWxpbSIsInZhbHVlIjoiPGRpdiBjbGFzcz1cImFib3V0XCI+PHAgY2xhc3M9XCJuYW1lXCI+PGltZyBjbGFzcz1cImFsaWdubm9uZSB3cC1pbWFnZS0xMTA4IHNpemUtdGh1bWJuYWlsXCIgc3JjPVwiaHR0cHM6XC9cL2p1bGllc2Fsa293c2tpLmNvbVwvd3AtY29udGVudFwvdXBsb2Fkc1wvMjAxN1wvMDNcL3Byb2ZpbGVfcGljMi0xNTB4MTUwLnBuZ1wiIGFsdD1cIlwiIHdpZHRoPVwiMTUwXCIgaGVpZ2h0PVwiMTUwXCIgXC8+PFwvcD48cCBjbGFzcz1cIm5hbWVcIj5BcnQgaW4geW91ciBJbmJveDxcL3A+PHAgY2xhc3M9XCJyb2xlXCI+U3Vic2NyaWJlIHRvIG15IG5ld3NsZXR0ZXI8XC9wPjxcL2Rpdj4iLCJtYW5kYXRvcnkiOiIwIiwibmFtZSI6IiIsImJzX2NsYXNzX2lkIjoiMTIiLCJkaXNwbGF5IjoiIiwibWluX3NpemUiOiIiLCJtYXhfc2l6ZSI6IiIsImFkZF9jbGFzc2VzIjoiIiwiYWRkX3N0eWxlcyI6IiIsImFkZF9hdHRyIjoiIiwidm5fb25seV9udW1iZXIiOiIwIiwidm5fb25seV9sZXR0ZXJzIjoiMCIsInZuX3BhdHRlcm4iOiIiLCJkZWZfY2hlY2tlZCI6IjAifSx7ImxhYmVsIjoiIiwicGxhY2Vob2xkZXIiOiJZb3VyIG5hbWUiLCJodG1sIjoidGV4dCIsInZhbHVlIjoiIiwibWFuZGF0b3J5IjoiMSIsIm5hbWUiOiJuYW1lIiwiYnNfY2xhc3NfaWQiOiIxMiIsImRpc3BsYXkiOiIiLCJtaW5fc2l6ZSI6IiIsIm1heF9zaXplIjoiIiwiYWRkX2NsYXNzZXMiOiIiLCJhZGRfc3R5bGVzIjoiIiwiYWRkX2F0dHIiOiIiLCJ2bl9vbmx5X251bWJlciI6IjAiLCJ2bl9vbmx5X2xldHRlcnMiOiIwIiwidm5fcGF0dGVybiI6IjAiLCJ2YWx1ZV9wcmVzZXQiOiIiLCJkZWZfY2hlY2tlZCI6IjAiLCJsYWJlbF9kZWxpbSI6IiIsInZuX2VxdWFsIjoiIiwiaWNvbl9jbGFzcyI6IiIsImljb25fc2l6ZSI6IiIsImljb25fY29sb3IiOiIiLCJpY29uX3NlbGVjdGVkX2NvbG9yIjoiIiwicmF0ZV9udW0iOiIifSx7ImxhYmVsIjoiIiwicGxhY2Vob2xkZXIiOiJZb3VyIGVtYWlsIiwiaHRtbCI6ImVtYWlsIiwidmFsdWUiOiIiLCJtYW5kYXRvcnkiOiIxIiwibmFtZSI6ImVtYWlsIiwiYnNfY2xhc3NfaWQiOiIxMiIsImRpc3BsYXkiOiJyb3ciLCJtaW5fc2l6ZSI6IiIsIm1heF9zaXplIjoiIiwiYWRkX2NsYXNzZXMiOiIiLCJhZGRfc3R5bGVzIjoiIiwiYWRkX2F0dHIiOiIiLCJ2bl9vbmx5X251bWJlciI6IjAiLCJ2bl9vbmx5X2xldHRlcnMiOiIwIiwidm5fcGF0dGVybiI6IjAiLCJ2YWx1ZV9wcmVzZXQiOiIiLCJkZWZfY2hlY2tlZCI6IjAiLCJsYWJlbF9kZWxpbSI6IiIsInZuX2VxdWFsIjoiIiwiaWNvbl9jbGFzcyI6IiIsImljb25fc2l6ZSI6IiIsImljb25fY29sb3IiOiIiLCJpY29uX3NlbGVjdGVkX2NvbG9yIjoiIiwicmF0ZV9udW0iOiIifSx7ImxhYmVsIjoiU2VuZCIsInBsYWNlaG9sZGVyIjoiIiwiaHRtbCI6InN1Ym1pdCIsInZhbHVlIjoiIiwibWFuZGF0b3J5IjoiMCIsIm5hbWUiOiJzZW5kIiwiYnNfY2xhc3NfaWQiOiIxMiIsImRpc3BsYXkiOiIiLCJtaW5fc2l6ZSI6IiIsIm1heF9zaXplIjoiIiwiYWRkX2NsYXNzZXMiOiIiLCJhZGRfc3R5bGVzIjoiIiwiYWRkX2F0dHIiOiIiLCJ2bl9vbmx5X251bWJlciI6IjAiLCJ2bl9vbmx5X2xldHRlcnMiOiIwIiwidm5fcGF0dGVybiI6IjAiLCJ2YWx1ZV9wcmVzZXQiOiIiLCJkZWZfY2hlY2tlZCI6IjAiLCJsYWJlbF9kZWxpbSI6IiIsInZuX2VxdWFsIjoiIiwiaWNvbl9jbGFzcyI6IiIsImljb25fc2l6ZSI6IiIsImljb25fY29sb3IiOiIiLCJpY29uX3NlbGVjdGVkX2NvbG9yIjoiIiwicmF0ZV9udW0iOiIifV0sIm9wdHNfYXR0cnMiOnsiYmdfbnVtYmVyIjoiNCJ9fSwiaW1nX3ByZXZpZXciOiJraXdpZnJ1aXQucG5nIiwidmlld3MiOiIyMzAwIiwidW5pcXVlX3ZpZXdzIjoiODU5IiwiYWN0aW9ucyI6IjAiLCJzb3J0X29yZGVyIjoiMTAiLCJpc19wcm8iOiIwIiwiYWJfaWQiOiIwIiwiZGF0ZV9jcmVhdGVkIjoiMjAxNy0wMy0zMSAxMjozNTo0OCIsImltZ19wcmV2aWV3X3VybCI6Imh0dHBzOlwvXC9zdXBzeXN0aWMtNDJkNy5reGNkbi5jb21cL19hc3NldHNcL2Zvcm1zXC9pbWdcL3ByZXZpZXdcL2tpd2lmcnVpdC5wbmciLCJ2aWV3X2lkIjoiMTRfODc3MTc3Iiwidmlld19odG1sX2lkIjoiY3NwRm9ybVNoZWxsXzE0Xzg3NzE3NyIsImNvbm5lY3RfaGFzaCI6IjBiMDM5ODY0MDRjZDJiMzllOTkzOWRkMzA4MDc3YTM2In0=